2016-12-05 10:24:45
The Key to Turning Social Media Into Sales: Pros Offer Tips at CEW Event
2016-12-05 10:24:45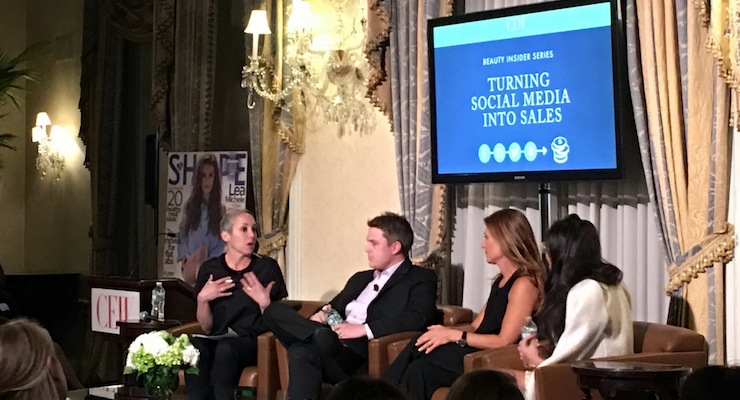 Experts came together to discuss the topic, "Turning Social Media into Sales" at Cosmetic Executive Women's Beauty Insider Series event in New York, in October. "We're no longer seeing a linear path-to-purchase model as digital interactions are shaping how consumers purchase beauty and move along in this journey," said Carlotta Jacobson, CEW president. "We're excited to bring together some of the best thought leaders in the space to uncover key learnings and evolve how brands approach social media to maximize their ROI." Conor Begley, co-founder/president, Tribe Dynamics (shown in the slideshow above, second from left) and Karen Moon, co-founder/ CEO, Trendalytics (shown in the slideshow above, seated fourth) discussed the best practices for social measurement and influencer engagement to yield sales increases. Laura Elkins, SVP of global and North America marketing at MAC Cosmetics (shown above second from right), explained how the brand became a pioneer in the fast-paced social media sphere while always keeping an eye toward the future. After the presentations, moderator Jenny Fine, editor of WWD Beauty Inc. (shown above, first on left) moderated a Q&A session. The event was sponsored by Shape, Givaudan, 24 Seven, GLOSSYBOX, Identipak, Sealed Air, Beauty Inc, WWD, Kaplow Communications and Pixafy. Show 'Attainable' Experiences, Advises Trendalytics' Karen Moon Trendalytics' Karen Moon said there is a correlation between the photos that trend on social media and beauty product sales. "The face mask category recently doubled in size," she said. Did social media help fuel sales of sheet masks? Moon said it did. "It's a spa experience you can do it home - and it's instagrammable," she explained. Moon offered this tip for beauty brands that want to create better social content. "Show a transformation that feels attainable," she said, adding, "No one wants to see 'perfect' photos." Reminding Beauty Brands That Authenticity Is Key Tribe Dynamics' Conor Begley reminded everyone just how much a social media influencer might impact a brand's success. "Becca Cosmetics was going out of business until Jackie Hill, an influencer, started to post videos using the products. Now Becca is one of the fastest growing brands, according to a recent NPD statistic," he says. (MAYBE mention in parens that Becca was since acquired by The Estee Lauder Companies) Why did it work? "Authenticity," Begley states. "She was really into the brand. That authenticity didn't exist with Michele Phan and L'Oreal." Conor is talking about CoverGirl's recent partnership with Phan, and how it wasn't the success the brand had hoped it would be. "When she started to work exclusively with CoverGirl, she lost the trust of her followers. The online community knows what's up - and they will call you out," he says. MAC's Laura Elkins agreed that authenticity is key. "A lot of influencers are now being paid. A brand can't expect exclusivity from an influencer," she said. "But if 80% of an influencer's content is being paid for, then that's not authentic. The consumer is smart," she added. Jenny Fine asked the experts if influencers often gain and lose credibility, and if this makes it more of a challenge for a beauty brand to decide who to partner with and sponsor. Begley responded, saying that a beauty brand should choose an influencer wisely: "15% of their content can be paid. Not more, or their followers will leave them." Decide If a Trend Has 'Staying Power, Said MAC's VP Laura Elkins Is it possible for a brand to capitalize on the beauty trends that move at such a fast pace on social media? When Jenny Fine asked the panel about the 'timing of the trend cycle," MAC Cosmetics' Laura Elkins said, "We are seeing longer trend cycles, but when it drops, it drops rapidly." Elkins pointed out that a trend could be gone by the time product development begins. "We're seeing more micro-trends," she said, and they're being "amplified at high speeds." How? "It could be something as simple as an influencer talking about it - and before you know it…" The key, however, is to determine which trends will have staying power - and ignore the rest. Elkins said that MAC has a team that monitors trends that are gaining traction on social, and then a few decisions have to be made, including, "Should we create social content around this trend to fuel it?" Deciding whether or not a trend will be short-lived also affects business and production decisions. "We have to make sure we are producing enough of the trending item to keep it in stock," Elkins added. Seizing New Opportunities Trendalytics' Karen Moon had a few tips for beauty executives - and the product categories brands should be focusing on next. "Color correctors," she said. "There are still very few products in the marketplace that identify themselves as color correctors, yet the category is growing. There is a lot of opportunity here on social media, especially with tutorials," she said. What's next? "Lashes," Moon said, stating that the opportunity in this category lies in product innovation. She added, "There have been more online searches for eyelash extensions than for red lipstick or blush."

Looking for Lipstick container?

please visit www.topbeautysh.com for more cosmetic packaging information.